Arun Divers SAA 184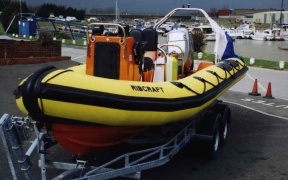 Arun Divers is a long established scuba diving club, as our Sub-Aqua Association (SAA) number of 184 might suggest from over 1100 SAA clubs throughout the UK. The club came to being in 1972 when the six founding members decided to dive as a group. Over time, friends of those members also wanted to learn the art of scuba and the club membership is today drawn from right across the regions of Bognor, Littlehampton, Worthing and Shoreham.
The club initially purchased two boats, 'Genesis' for more distant dives and the 'Tin Boat' for local waters. The 'Tin-Boat' eventually gave up the ghost and in 1996 a 5.1 meter RIB was bought to extend the scope of the clubs diving. In 2000 a successful bid for a grant enabled the club to purchase a brand new 6.5 meter Ribcraft RIB which arrived in February 2001, replacing the older boats. This RIB is still used by the club today.
Based in Littlehampton, we take our name from the River Arun and this coastal location gives us great access to a wide range of dive sites, reefs from 6 to 30 metres including chalk drop-offs, boulder reefs, sand bars and holes and wrecks of every type in depths ranging from 6 to 60 metres, many from the First and Second World Wars and in various states of decay, some broken up, but others still quite well intact.
To access many of these sites we use our RIB, now powered with a 200HP Mariner outboard to speed us out quickly up to 20 miles. We also charter hard boats to access some of the more remote and deeper wrecks and reefs. There are numerous dive charters from Littlehampton, but we also venture east to Shoreham, Brighton and Eastbourne, or west to The Solent, Swanage and Weymouth.
As an affiliate of the SAA we are an independent club that follows a nationally recognised training programme which ensures an extremely high standard of diver training. We also welcome experienced divers from other organisations as well as novices to the activity.
If you would like to have a go at scuba diving, we can arrange try dives in our pool facility at Splashpoint Leisure Centre, Worthing. The centre was opened in May 2013 and boasts two excellent pools, both with elevating floors, which we use for our confined water training. We use the pool set at 1.5 metres for introductory sessions and 4 metres for deeper, more advanced practical skills.
Club nights are every Monday evening between 8.30 and 10.30pm and alternate weekly between the pool and a theory/social meeting at West Worthing Social club at the top of Elm Grove, Worthing. Anyone is welcome to come along and talk to us about diving, swap some stories over a drink or join the club. We like to exchange information with other clubs or divers, local or distant so please just check our diary for dates and details of each session or otherwise feel free to contact us.
The club organises a variety of social events throughout the year including family days, BBQ's, party nights etc. and is also actively involved in fund raising for local charities. The annual The Arun Divers Littlehampton Charity Leap from the red footbridge over the River Arun is now over 30 years old and takes place early each year (subject to tides) and has raised more than £60,000 for different local charities over the years, so please do come along, join in the fun and get yourself wet for a good cause this New Year!